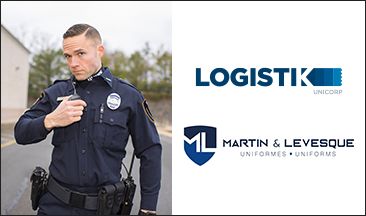 Logistik Unicorp announces it has completed the acquisition of Martin & Levesque. In business since 1974, the uniform supplier for public services, first responders and transit workers will continue to operate as a wholly owned subsidiary, with full management of its contracts and assets.
"We are pleased to welcome Martin & Levesque among the subsidiaries of the group. This marks a significant milestone in our company's growth and enables us to not only leverage our joint expertise, but also to strengthen our presence on the Canadian market to better serve the needs of our customers", commented Louis Bibeau, President and CEO.
"We are looking forward to combining forces and explore the tremendous synergies and operational efficiencies that will arise from this association", stated President of Martin & Levesque, Benoît Lussier. "This agreement will propel our products and services offerings to clients and simultaneously generate great opportunities for our partners in the textile and clothing industry", adds Mr. Lussier.
An Extensive Offer for First Responders and Transit Personnel
Logistik, a global leader in purveying uniforms, will now outfit more than 200,000 first responders, volunteers and transit workers. By uniting M&L's specialized expertise in this segment and Logistik's operational efficiency, the organization strengthen its position as a strategic supplier for public services and first responders.
Moreover, Martin & Levesque holds the licenses to distribute the Blauer and W.L.Gore brands, including several exclusivities on the top products within the range. This step forward for both companies provides government and municipal customers with access to a wider range of clothing and equipment for first responders, including law enforcement, fire departments, paramedics and all public services such as transit.

Source: Laura Hamel (Logistik Unicorp)
Photo: Courtesy