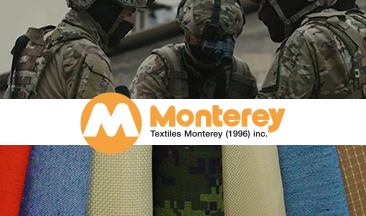 Monterey Group, a company based in Drummondville, St-Jean-sur-Richelieu and Sherbrooke, is in full expansion. Thanks to major and sustained investments in research and development, Monterey Group has succeeded in developing quality composite materials based on carbon fiber and glass, which are essential for the manufacture of products in leading-edge sectors such as construction (building infrastructures), transportation (airplanes, automobiles, subway cars, buses, trucks and boats) and renewable energy. These materials are distinguished by their lightness, endurance and high performance. Its sales in this fast-growing niche are increasing by 30% each year.
Texonic, a member of the Monterey Group, offers an alternative that is currently experiencing remarkable growth, thanks to its new generation of composite materials made from flax fibers. This new generation of composite materials uses a renewable resource with a much smaller carbon footprint than other fibers. Composite parts made from flax fibers are currently found in sports equipment, cars (e.g. Mercedes, Porsche, Volvo) and many other sectors. The company is also studying the possibility of creating materials with hemp fiber. The composites market, estimated at more than $150 billion, is booming and continues to grow every year.
"With 260 employees, Monterey Group is the largest integrated Canadian manufacturer capable of developing and manufacturing value-added technical textile materials, from fiber to fabric, for a wide variety of applications and markets. The quality of our product line, which includes composite materials as well as technical textiles and fabrics, is recognized by our thousands of customers across North America," said Randy Williams, Director of Sales and Marketing, Monterey Group.

Prioritizing Quebec operations and hiring
In 2020, Monterey Group acquired Filspec, a leading Quebec-based spinner known for the quality and creativity of its products. This allowed the Group to consolidate its spinning operations with its already diverse weaving, finishing and printing operations. Over the past few years, the group has reorganized its activities and prioritized several subcontracted operations elsewhere in Canada in its Drummondville, Québec plant. The company is now well positioned to continue its growth and increase its competitiveness in the global market of technical textile materials.
"Our team is constantly developing and testing new spinning, weaving, finishing and blending techniques to create new and better performing fabrics for the next generation of protective clothing. If the fabric doesn't exist, we have the ability to customize it to our customers' needs. With the expertise of all the employees who have shaped our history over the past 90 years, anything is possible," said Nicolas Juillard, Vice President of Technology and Development, Monterey Group.
The company is in hiring mode to meet the growing demand for its products. More than 35 positions are currently available in its three Québec locations.

Materials with unique protective properties for leading-edge industries
Monterey Group is the largest supplier to the ballistic, fire retardant and uniform markets in Canada. With operations (Lincoln Fabrics in Alabama) in the United States, the company is one of the top three suppliers of woven ballistic protection solutions in North America.
Its textiles are distinguished by their flame retardant, medical, antimicrobial, disinfectant, ballistic protection, anti-abrasive, hydrophilic, hydrophobic, etc. properties. The company's offer is so specialized that certain techniques are unique in the world. Governments, municipalities and companies in various sectors rely on the Monterey Group's expertise every day.
Millions of workers around the world are protected by clothing or uniforms made from Monterey Group fibers, textiles or fabrics, including firefighters, police officers, riot squad officers, soldiers, medical personnel, linemen, welders and oil and gas workers.
The specialized expertise of its team is sought after and valued. For example, in the midst of the COVID-19 pandemic, Monterey Textiles was called upon by governments to manufacture the fabric needed to make thousands of lab coats for health care workers. The company produced 1.5 million yards of fabric in record time.
The Monterey Group includes the following companies: Textiles Monterey (Drummondville); Texonic (St-Jean-sur-Richelieu) and Filspec (Sherbrooke).
Source: TechniTextile Québec