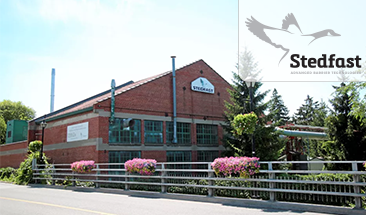 A leader in its sector, Stedfast is making sustained investments in the modernization of its manufacturing equipment

In 2021, the company acquired a $3 million regenerative thermal system - a major investment for this Drummondville-based company - that allows it to heat its facilities, increase its energy efficiency and reduce its environmental footprint.
This state-of-the-art equipment burns the residual vapors from the manufacturing processes, then recovers and transforms the energy from the furnaces to heat the plant during the cold season. The emissions released are 99.998% pure.
With this new system, Stedfast's annual energy consumption (electricity and natural gas) will be reduced by approximately 30% annually, according to a preliminary analysis conducted by management.
Over the next year, Stedfast plans to invest an additional $100,000 to significantly reduce noise from its operations by more than 10 dB. All of these investments are part of the company's sustainable development plan.

Stedfast products are designed to ensure the safety of workers in the medical, industrial, national defense and emergency response fields. Among other specialized protective products manufactured since 1930 by the Stedfast team in Drummondville, there are textiles resistant to chemical and biological weapons, for example.
In the past year, Stedfast has also manufactured antibacterial fabrics used to make thousands of gowns for healthcare workers in Quebec.

Source: TechniTextile Quebec
Photo: La Voix de l'Est
---
WHAT THE MEDIA ARE SAYING...