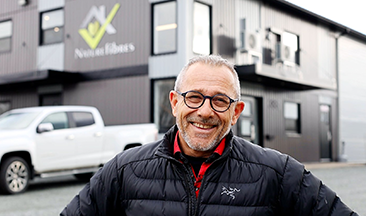 Nature Fibres, North America's leading hemp processing plant, is struggling to meet demand for its insulation boards made from defibrated industrial hemp straw.

Built in 2019, the Val-des-Sources plant - fully automated - is operating at full capacity. The plant manufactures hemp wool thermal insulation panels for its North American customers, mainly in the construction, transportation, and food and pharmaceutical cold storage sectors.
In order to meet the growing demand for its products, Nature Fibres' management is already planning an expansion project within two years. The company is still in hiring mode.
"The interest for this eco-responsible insulation is growing remarkably. We are involved in setting up a Quebec-based industry to accelerate the development and transformation of this natural material. We are working with partners to ensure an increased and continuous supply of this biosourced material, which is sought after by a growing number of customers who are concerned about reducing their environmental footprint," explains Michel Provencher, general manager of Nature Fibres.
Natur-Chanv/Hemp insulation boards can be found in BMR stores in Quebec as well as in many retailers and distributors of building materials.

Remarkable performance
Recognized for its durability, hemp fiber is used, among other things, in the manufacture of cables for boat anchors and suspension bridges.
The remarkable properties of hemp fiber are multiple. It can be used to keep buildings and houses warm and to keep medicines, food products and frozen goods cold. Hemp wool also stands out for its exceptional acoustic properties.

The advantages of hemp wool for insulation
Construction of sustainable, zero-carbon buildings
Reduction of greenhouse gases (GHG)
Recoverable, recyclable, compostable, biodegradable biosourced material
Ecological and eco-responsible use
Thermal and acoustic insulation
High mechanical resistance
Optimal regulation of humidity levels
High permeability to regulate the flow of vapors resulting from interior and exterior temperature differences
Unequalled ease of installation
Natural protection against pests, including rodents, mites and termites

Source: TechniTextile Quebec
Legend: Michel Provencher, General manager
---
WHAT THE MEDIA ARE SAYING...