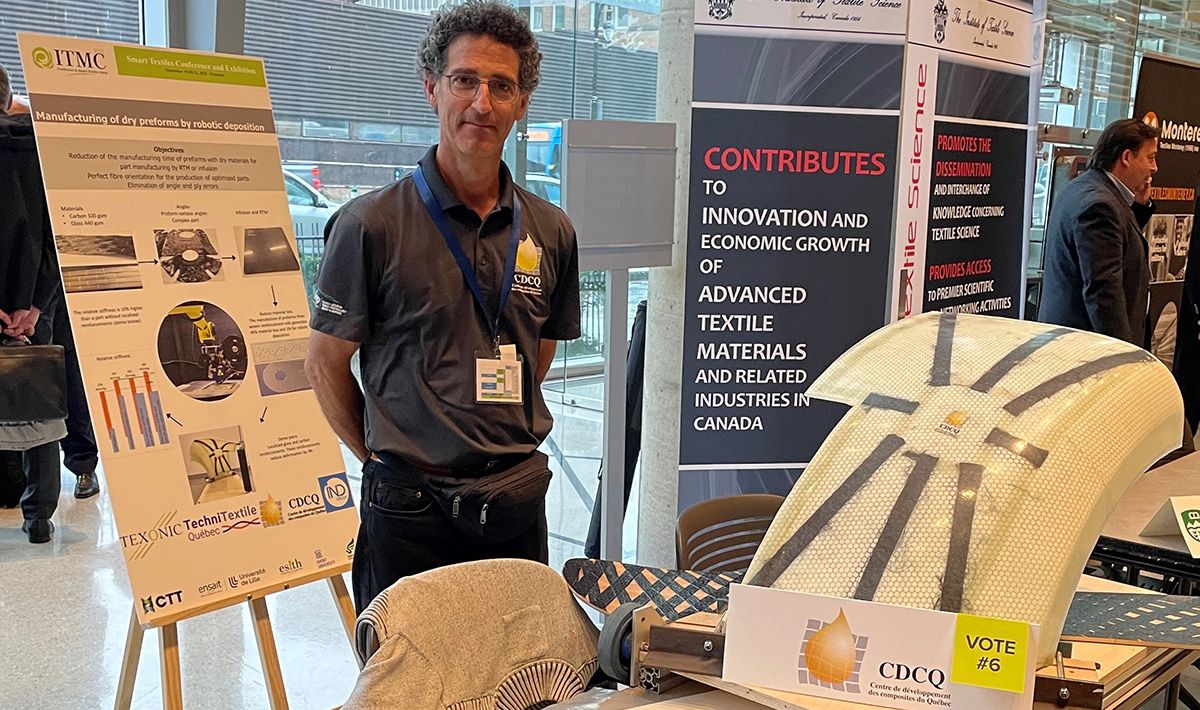 Free translation from Weave
During the 8th edition of the International Conference on Intelligent Textiles and Mass Customization (ITMC) held for the first time in Montreal (September 19-21, 2022), guests from various branches and disciplines related to the textile industry had the opportunity to visit the first day, the Smart Textiles Salon.
The show allowed participating organizations to exhibit their prototype, and let visitors discover recent textile innovations. And as is typical of this type of event, it was an opportunity for companies and researchers to explore new ideas, effective solutions and establish possible partnerships between peers. A great synergy was created between designers, manufacturers, suppliers and users from all sectors.
During the conference, two prizes were awarded: one for the best prototype and the other for the best innovation. The winners of the first prize are (ex æquo) Mrs. Meryem Essaket and Mr. Omar Cherkaoui of ESITH of Casablanca. The second prize was awarded to the Composites Development Center of Quebec (CDCQ).
The Canadian Textile Innovation Award
The industrial project carried out by the CDCQ, in collaboration with Texonic and IND Group (Robox and Effman), was awarded the prize for best Canadian innovation. The prototype tuck fender made with robotized dry reinforcement preforms presented at the Conference, which aims to optimize the robotization of composite parts molding, charmed the audience. Indeed, this large-scale project, financed by TechniTextile Québec, had major assets.
Rethinking innovation
First, the robot optimizes the manufacturing of composite parts by precisely positioning the reinforcing fibers in order to significantly enhance its strength of the part.
Secondly, traditional processes generates a lot of raw material rejects. In the case studied, the rejection rate was 46%, whereas with the robot, this percentage was only 1%. This difference not only reduces the environmental waste, but also considerably reduces the manufacturing cost of the component.
Finally, the installation of reinforcements with precise angles requires qualified and well-trained operators, which is increasingly difficult in a context of manpower shortage. The use of a robot permits the work to be done while reducing the risk of errors.
Source: CDCQ
Photo caption: Yves Mathieu, Eng. M.Sc.A., Project Manager and Business Development, CDCQ